A recent addition to Greater Manchester's health innovation ecosystem is the Christabel Pankhurst Institute, a new £25m initiative to promote needs-led health technology research and innovation, providing end-to-end support for translation into practice.
It was launched in January 2021 by a consortium comprising: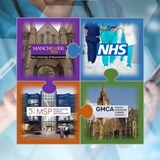 The Institute will form an important part of the Greater Manchester health innovation ecosystem, working together to translate world-leading research into new products and services.
It will maximise the University's research strengths in digital technology and advanced materials and will develop innovative solutions to pressing health and care challenges, fostering new collaborations, improving lives and catalysing growth in the health innovation business sector.
The institute will play a critical role in pulling innovations through from basic research to market ready products and services, that can be deployed across Greater Manchester, to ultimately improve the health and wellbeing of our citizens.
To achieve this it will build on, integrate and enhance the already extensive support provided by the partners.