Working Well is a family of services that embody Greater Manchester's employment and health offer and are designed to support people experiencing or at risk of long-term unemployment.
Since its inception in 2014, Working Well programmes have achieved employment outcomes for over 6,500 Greater Manchester residents (November 2020).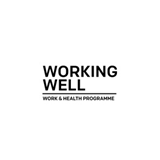 The Working Well Early Help programme aims to design and test an early intervention support system geared to support and advise individuals (with employment with health conditions or disabilities) who are at risk of falling out of work, or are newly unemployed due to their health complications and/or disabilities.
The programme went live in March 2019 and is delivered by MAXIMUS (UK) across all 10 localities. Early Help is a unique service that does not have a national competitor. This is because it combines:
A health-led model focused on addressing health conditions and wider social determinants of health to enable individuals to move back into work.
The focus on early intervention to facilitate a quicker return to work and reduce the risk of long-term unemployment. The Flexible Test and Learn approach allowed the programme to respond to the newly unemployed who have been impacted by Covid-19 and poor health.
Rapid access to services (CBT and physiotherapy) for which there are long waiting times on the NHS.
Support for both SME employers and employees including advice and confidence building for programme participants to negotiate a return to work. The flexibility within the programme allowed for support to businesses impacted by Covid-19, such as care and the night time economy, to be given.
A direct pathway for participating GP practices to refer in patients who are in receipt of a Fit Note to support a return to work.
After enduring a violent domestic relationship spanning 23 years, Joanne finally fled when the situation escalated to the point where her life was in danger.
She had suffered financial, emotional and physical control and abuse, and had been denied contact with her family for years. Abandoning her home, job and life in Derby, Joanne relocated to Bury, where her family lived.
She was referred to the Working Well Early Help service by her Jobcentre Plus Work Coach, requiring support with mental health issues, debt management, housing, employment and general health and wellbeing, including weight management.
Joanne received regular telephone contact from her Vocational Rehabilitation Consultant, and with all the support she has received from the Working Well Early Help team, Joanne has advised that she has seen a significant improvement in her mental health and now has a positive outlook.
She has started to regain independence, and has obtained a new home, re-established strong relations with her immediate family and reconnected with old friend, attributing these improvements to the support she received from the Working Well Early Help service.
Joanne has also secured full-time employment as a Quality and Control Compliance Manager, which has given her financial independence. In addition, she now volunteers at her local community centre, sharing her experiences of domestic violence.