There are significant benefits to be gained from taking action now to achieve our vision for a low carbon Greater Manchester.
A low carbon neutral transport system would mean:
To achieve this there are three main types of intervention Greater Manchester needs to explore:
avoiding carbon emissions altogether
shifting to lower emission ways of doing things
improving how we do things e.g. upgrading to new low-carbon technologies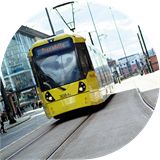 These changes will not only benefit the environment but will also improve health outcomes, tackle inequalities, generate good quality and secure quality jobs and make our communities better to live, learn and work in.