The Greater Manchester Strategy will enable us to deliver our new vision for economic growth, which is to be more equitable and socially responsible, bringing opportunities and prosperity to all.
Health innovation
We have the largest life sciences cluster outside southeast England with high potential opportunities in diagnostics and healthy ageing.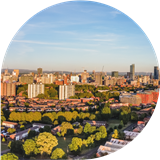 Advanced materials and manufacturing
We are the home of Graphene and have a complementary advanced manufacturing base.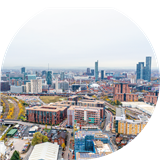 Digital, creative and media
We have significant clusters in cyber security, broadcasting, culture, content creation and media.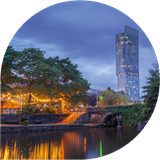 Clean growth
We've established the UK's first Clean Growth Mission.
Focusing on these sectors, supporting our businesses to grow and working with them to attract new investment and promote innovation, gives us the potential to address some of society's biggest challenges, including achieving carbon neutrality and addressing the challenges of our growing ageing population.
A culture of innovation, coupled with increased research and development across a wider business base, will boost investment and productivity, creating jobs of the future both locally and for the UK.
Reinforcing our economic foundations
In Greater Manchester we are significantly more dependent on employment in the foundational economy, which supplies every day essential goods and services, than the rest of the UK.
In order to achieve our goal of a prosperous city region, we want to ensure there are good economic opportunities for everyone, which means developing our foundational economy to provide progressive and improved working practices, good pay and development for people working in Greater Manchester.